Shearwell & Tags
From tags through to…
The name Shearwell is virtually synonymous with tags, and our commitment to quality goes back a very long way. While shearing sheep in Norway, company founder and director Richard Webber was so impressed with a particular sheep tag that he bought the machine that made them, and brought it back to the UK.
Those aluminium tags, with an excellent retention rate, were (and still are!) strong and durable but also light in weight and suitable for day-old lambs. Shearwell was in the tagging business!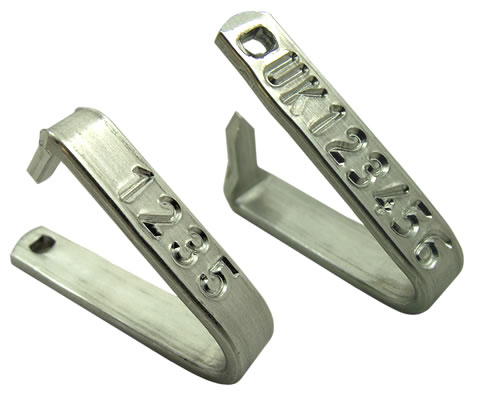 ...systems and software...
Production stepped up with the introduction of double tagging for cattle in 1998. A laser printer was installed to cater for the increased demand and to produce high quality results that do not fade or rub off. Compulsory sheep tagging prompted Shearwell to design a cost-effective plastic sheep/lamb tag to serve livestock farmers better.


Shearwell SET tags, for sheep and goats, are now the best-selling tags in the UK (SET stands for Shearwell Electronic Tag). Their retention rate is exceptional, – something of great importance to all farmers. Excellent retention is also the main reason behind our choice of Combi 2000® cattle tags for sale in the UK - supplied by the same company from which our PAT machine was sourced.
…and now with Ketchums tags to complement the range.
Ketchum Manufacturing Company Limited was established in the UK in 1937 to be the first provider of tamperproof identification solutions for cattle, sheep and pigs. The excellent quality of their metal tags contributed to building a very large and loyal customer base among Britain's farming community. In 2017 Shearwell acquired Ketchum to provide an even wider range of quality tags.
Your one-stop-shop for Livestock Identification.
EID and visual tags still form a core part of our business, but over the years our operation has expanded to address the many ways farmers can benefit from accurate and permanent livestock identification. From Stick Readers to Apps and from Farm Management Software to weighing and drafting systems, Shearwell has pioneered new ways of exploiting the potential in accurately identifying each animal in your flock or herd.
Not just for pedigree breeders, but for every livestock farmer who wants to identify the best performing stock early and accurately by recording each animal and its unique data and then effortlessly accessing it. Our software solutions include a PC-based farm management program and a web-based farm program. Both can be used with Shearwell readers and phone apps.
With an unstoppable drive for traceability – matched by an understanding of and a passion for unlocking the information behind each individually recorded animal – Shearwell keeps its sights firmly fixed on the future.
This page was updated: 19/12/2018