EID Trials
As early as 1992 Shearwell Data Ltd began participating in electronic ID trials around the country. These trials involved not only different devices, but also different species. As a result of involvement in these and many other trials, the company has expanded its knowledge of what works best. Hands-on experience in day-to-day, on-farm operation of our systems not only ensures that Shearwell solutions are fully tried and tested but also that they undergo continuous development.
Below are some of the trials and projects we have been involved in:
as well as many more.
---
South West Sheep Management Group Trial
Six farms using implanted transponders, ruminal bolus and a range of readers and recording equipment. Over 50,000 sheep were identified during the trial.
The South West Sheep Management Group (SWSMG) was set up in 1996 to explore Electronic Identification (EID) in sheep. The five farms who joined the SWSMG represented a cross section of pedigree, hill, marginal and LFA (Less Favoured Area) farms. The trial was formed to evaluate the use of EID and also to set parameters that would allow such research to be of help for the UK to use when comparing with the IDEA trials into electronic identification that were taking place in Europe.
The aims of the project were:
To identify the areas of need for improvement within the individual sheep farm
To improve performance through recording
To identify the productive and non-productive animal
To improve the economic performance of the sheep
To monitor animal health trends
To improve the gross margin per hectare on members' holdings
To employ additional full time persons as a result of the project
To enable the farmers, their customers, the slaughterhouses, the processors and their retail customers to achieve total traceability from birth to slaughter and beyond
To Scrapie genotype stock rams with a view to elimination of scrapie from members' flocks
To use microchips as it would not be viable to record commercial flocks by way of visual ear tags. Chips allow automatic accurate data capture, whereas visual tags take longer to read and are impractical where tasks have to be performed in adverse weather conditions
To record electronically avoiding transcription errors
To evaluate the success and value of different feeds with varying percentages of protein in cake and to assess the performance of other feeds.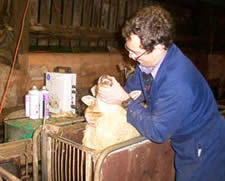 Equipment used
FDX B Implant transponders
Handheld readers
Ruminal Bolus (from 1998)
Static readers (from 1998)
FarmWorks by SDL - Farm Management Software
Handheld Shearwell Stock Recorders - to capture livestock data sent from a reader or inputted manually
---
---
---
---
This page was updated: 14/3/2022